Wellbeing
Wellbeing is at the forefront of what we do here at Roecroft. We have established a caring and nurturing environment that supports each child as a whole. This includes work across the curriculum that promotes positive behaviour, mental health, well-being, resilience and achievement.
The level of support each child needs to be emotionally literate, self-aware and mentally well will differ. We have a wealth of interventions and support systems across the school to ensure every child has the social and emotional skills to achieve their potential.
Whilst all staff in school have a responsibility to promote the mental health of pupils, please find below a list of key staff with specific roles and responsibilities.
Key people in school
Miss Gallagher

Pupil Well-being and Early Help Lead

Mrs Taylor

SENDCo

Mrs Pateman

Enrichment Teacher

Mrs Valpy

Pastoral Learning Support Assistant
Please click on the link to read our school Wellbeing Policy.
Please click on the link for details of support services that you can access.
Please click on the link to view a collection of wellbeing activities to support and inspire children of all ages, put together by TTS.
Wellbeing Events
In school, we work closely with the Early Help Team at Central Bedfordshire who aim to provide support to families in the local community. Please find details below of upcoming virtual events that they are running.
Virtual Early Help Drop-ins
2022 events coming soon....
BLMK Events
Wellbeing and mental health events for the residents of and people who work in Bedfordshire, Luton and Milton Keynes.
Use the link below to look at the upcoming wellbeing webinars.
They cover topics such as Panic Attacks, Sleep Hygeine, Well-being whilst working, Winter Wellness, Confidence and Low Self-esteem, Managing Anxiety and Worry.
https://mktalkingtherapies.nhs.uk/blmk-events?ccm_paging_p=2&ccm_order_by=&ccm_order_by_direction=
Bedfordshire and Luton CAMHS Parent Partnership Forum
Parentline
Parentline: for parents and carers of those aged 0-19
TEXT 07507 331456
Parentline offers advice and support on a range of issues such as weaning, sleep and emotional health. You can also find out how to access other local services. For more information please visit: www.cambscommunityservices.nhs.uk/Bedfordshire/services/health-visiting/parentline or watch our short animation: https://vimeo.com/333146030
Parentline is available Monday to Friday from 9am to 4.30pm. Parents, carers and young people can send a text anonymously to a dedicated number from any type of mobile phone.
Supplementary Information
Texts are delivered to a secure website and responded to by our 0 – 19 team. Out of hours, anyone who texts the service receives a bounce back message explaining where to get help if their question is urgent, and when they can expect a response. Texts are usually replied to within one working day. We provide the service free of charge. Any SMS messages sent whilst using the service may incur the usual network provider charge.
We do not usually inform anyone else when you/ your child contacts us. If we are concerned about safety we might escalate our concerns and would attempt to consult with you/them before doing so.
All messages are securely recorded and can be seen by other healthcare staff who follow NHS confidentiality rules.
The award-winning messaging service platforms were created by Leicestershire Partnership NHS Trust, who liaised with school staff, parents, governors, clinical leads, nurses and safeguarding leads to develop guidance and test to ensure safety. The approach to safeguarding and personal information is robustly governed. Other organisations such as the police, NSPCC and the Royal College of Nursing were also extensively consulted.
Please follow us on:
Facebook: @bedscyp
Instagram: @bedscyp
Twitter: @BedsCHS
Parent Pals
Have you found things a little difficult recently?
Do you want to build new friendships?
Would you like to meet new people with children from your local area?
Do you want to share ideas and thoughts with others?
Would you like non-judgemental support and encouragement?
If the answer to any of the above questions is....YES! Then join a Parent Pal session.
The sessions are being run virtually, every other week on a Tuesday afternoon from 1:30 – 2:30pm.
Contact Claire Racher or Paula Murphy for to receive the link for the sessions which will be delivered via Microsoft Teams.
claire.racher@centralbedfordshire.gov.uk
paula.murphy@centralbedfordshire.gov.uk
Stotfold Children's Centre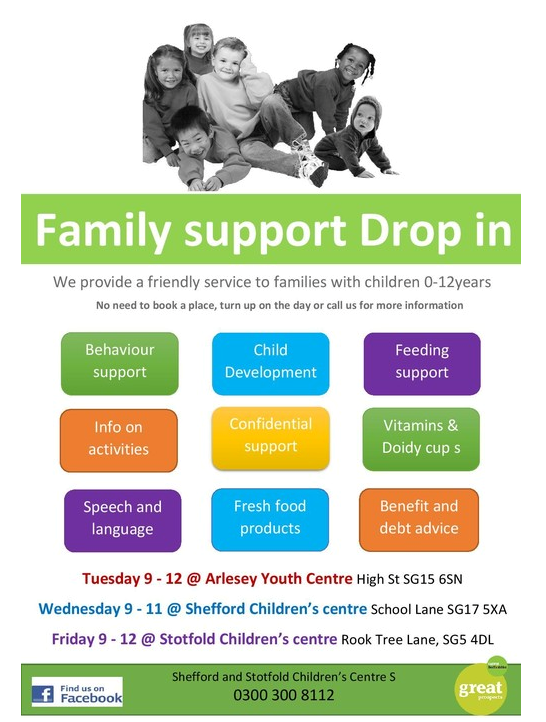 5 Ways to Wellbeing